What does Embrace monitor?
Embrace is designed to detect and alert for tonic clonic (convulsive) seizures and to monitor physical activity and rest.
What will you need for Embrace to work?
How does Embrace work?
Embrace needs to be paired via bluetooth with a compatible smartphone. It should be the user's phone. It must remain within a proximity of less than 30 feet/10m to the Embrace.
The paired phone must always be connected to internet; if not, alert calls/SMS can't be delivered to the active caregivers when it detects a convulsive seizure.
How does the Alert system work?
Embrace records physiological signals with its sensors (an EDA sensor, a gyroscope, an accelerometer and a peripheral temperature sensor). Then, it sends this data to the paired smartphone via bluetooth, and from the smartphone to Empatica's servers via Internet connection. When Embrace detects a convulsive seizure, it will send Alert calls and SMS to the caregiver's phones. They do not need to install any apps.
Remember: Both bluetooth and Internet connection are necessary for the Alert notifications to be sent when Embrace detects a convulsive (tonic clonic) seizure.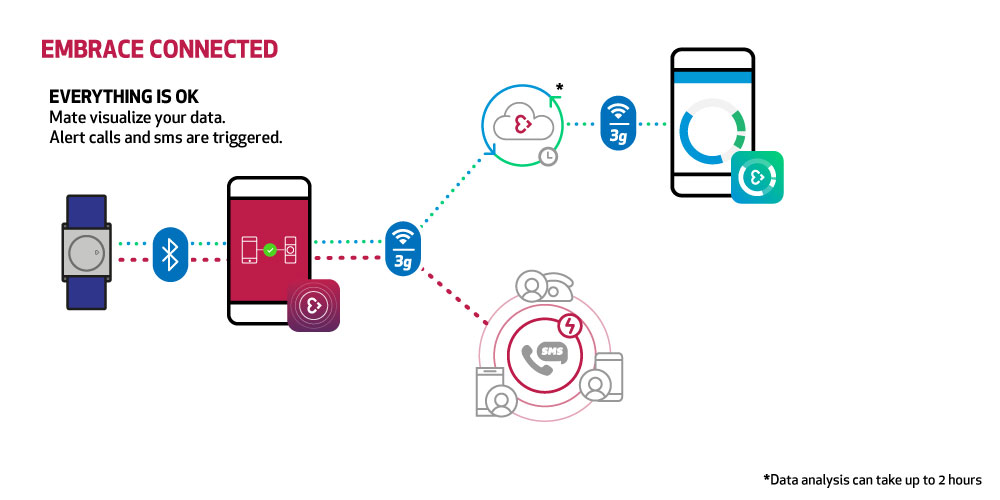 What happens if Embrace isn't connected to the paired smartphone via bluetooth?
Whenever bluetooth connection is unavailable, Embrace will continue to record and store data on its internal memory, which has a capacity of 18 hours. Beyond this, Embrace will still alert, however, sleep and activity data won't be recorded, until the memory is cleared.  
As soon as the bluetooth connection is restored, data will be automatically transferred to the smartphone, freeing up Embrace's memory. Data transfer might take up to 1 hour and a half.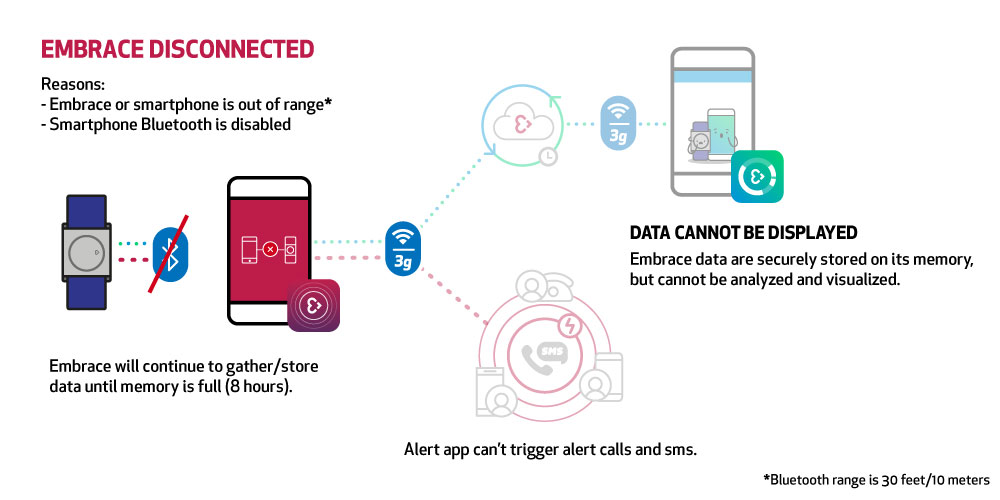 What happens if the smartphone has no access to Internet?
If the paired smartphone has no access to Internet (remember, setting your mobile phone in in airplane mode disables internet connection) the data recorded by the Embrace watch will be stored in your smartphone.