The Mate App now makes it easier than ever to manage and take your medication on time.
How to add a medication
On the main diary page, tap on the three bars in the left corner and select My Medications.


Use the search field to look up your medication. You can search by active ingredient or brand name.
Select the medication you are taking from the list. Make sure that the strength and dosage form are accurate (e.g., tablet, solution, etc.).

Indicate how often you take it, how many times per day, and what time you wanted to be reminded at, and the quantity you'll be taking.

The following screen allows you to add any special instructions to follow when taking the medicine. For example take with food, or on an empty stomach, or avoid alcohol. You can skip these if there aren't any.
Now you can enter the date you're supposed to stop taking the medication, so you don't receive any reminders beyond this date. When finished tap Next or No end date if your doctor hasn't indicated how long the treatment should last.
The final page asks you to review the information entered. If anything needs to be changed, just tap on the section to make edits. Once everything looks good, tap save.

You'll receive a notification for each medication at the previously indicated time when it's time to take it.
Keeping track of medications
Tap on the reminder notification to indicate whether or not you've taken or will be taking the medication.

Tap Take to indicate you'll be taking it. If you're taking it at the specified time, tap On time. If you take it earlier or later, tap Select time. If you took it late, you can also mark it as taken late by ensuring that the toggle at the bottom is green.

Your daily wheel will now feature an orange dot at the time you took your medication.

For a tidy timeline of today's medication history just tap on Medications under Stats on the daily wheel page.

View/ End medications
To see a list of the current medications you're taking just tap on the 3 horizontal bars in the top left corner, then My Medications. Active indicates your current medications, while Ended indicates the medications you are no longer taking.
To end a medication just select it from the active list and tap on end medication. You'll no longer receive notifications for this medication.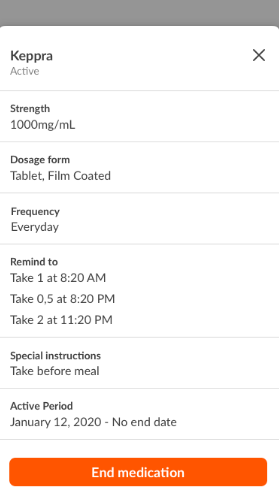 Please note: Currently, it isn't possible to edit medications you've logged. For now, you'll have to delete the medication and add another.

If you have any questions or if something isn't working as expected, please don't hesitate to email us at support@empatica.com.