The Mate App works in conjunction with Embrace2 to create a mobile data acquisition system designed for study subjects. It automatically transfers data collected from subjects to Empatica's servers for processing. Researchers are then able to view their subjects' data in the Research Portal for further analysis. After the data has been processed, rest and physical activity results are returned to the subjects for visualization inside the Mate App.
Custom event diary
The Mate App is the perfect replacement for unreliable paper diaries. Mate allows subjects to log any seizures they may have experienced, or any other custom events that are relevant to the study. This information is then automatically transferred to the Research Portal for your viewing, providing you with complementary information about the circumstances of their events.
Unique log-in
Subjects will log into the app with unique uploader credentials, generated by the Research Portal. Researchers can agree on a specific subject ID for each patient before starting the enrollment process. This is convenient as it de-identifies your subjects and so none of their personal data is shared. The unique identifier ensures that the subject's data is always grouped correctly and stored securely.
Data transfer with the Mate App
Embrace2 continuously records your subjects' physiological data. This data syncs with the Mate App using Bluetooth connectivity. From the Mate App, the data is then transferred to our servers.
When Embrace2 is out of Bluetooth range or if the Bluetooth is disabled, it can store up to 14 hours of data in its memory. It's important that the subjects connect the device to the paired smartphone so the data can then automatically transfer to the Mate App.
Data stored in the Mate App will then be transferred to Empatica's servers using internet connection. This data flows seamlessly from the Mate App to our cloud, which you will then be able to review in the Research Portal.
Rest and physical activity tracking
Mate allows subjects to view an in-depth analysis of their rest and physical activity. Rest is analyzed to reveal how fragmented and efficient the rest period was. Physical activity is arranged into intensity, duration, distance, and step count. The app displays all of this information in one place, making it easy to see the overall activity of the day at a glance. These factors can help you with increasing the subjects' compliance.
You can download the Mate App here: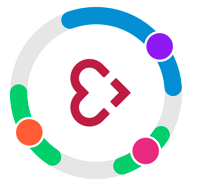 for iOS and Android