As a research study participant, the Mate App will be your main tool to transfer the data you collect. Data flows from Embrace to the Mate App, and then to Empatica's servers to be processed by our algorithms. You can find a detailed view of data flow by launching the Mate App > Embrace icon (top-right) > My Embrace page, under the section, Embrace Data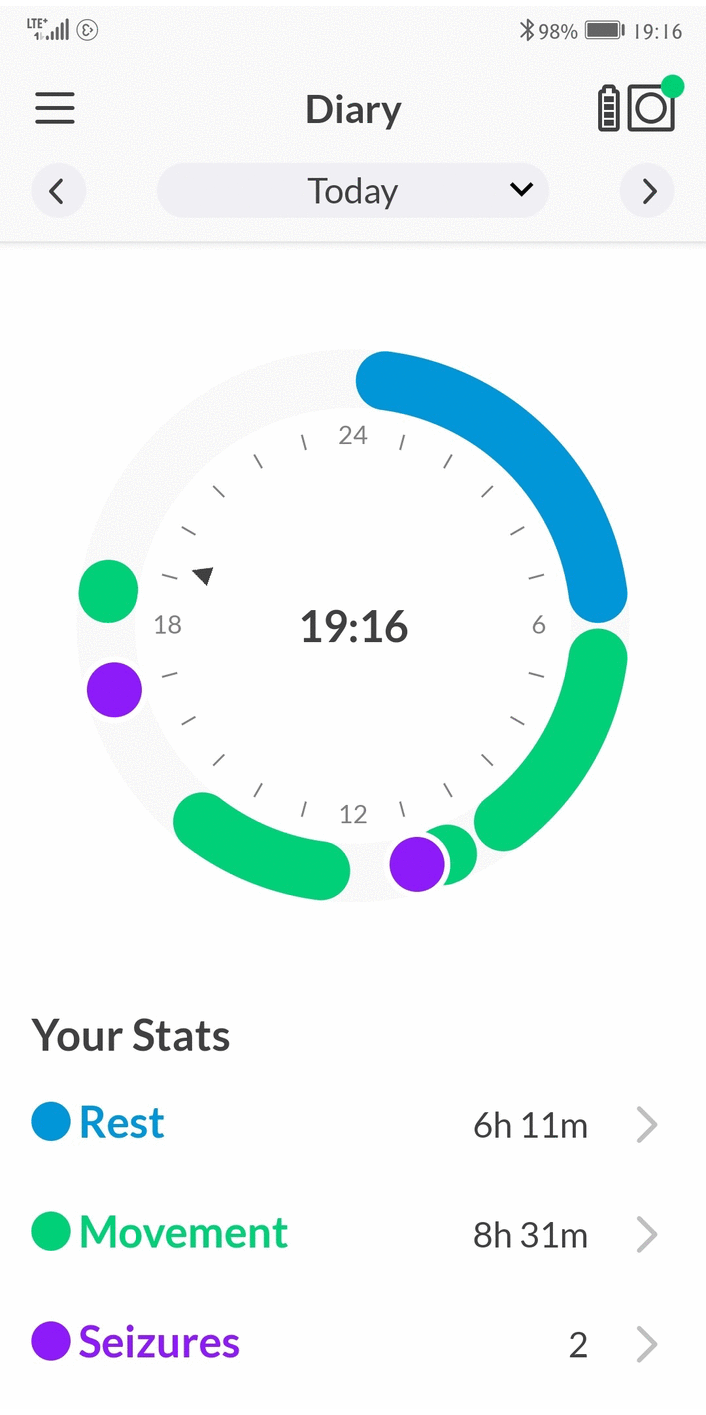 Embrace Memory
When Embrace is disconnected from the Mate App, it will start to store this data on its internal memory, which has a capacity of around 14 hours. If you see 100% free, it means that there is no data on the watch to be transferred to the Mate App. Please make sure to enable the Bluetooth connection on your phone to allow Embrace to stay connected to the phone, avoiding that the watch memory fills up.
Keep Embrace close to its paired smartphone and the memory will clear as data is wirelessly transferred to the phone. It can take up to 2 hours to transfer all the data from your Embrace watch to your smartphone.
Last Embrace sync to App
This indicates the last time that Embrace sent data to the phone. Keep Embrace connected via Bluetooth and data will automatically transfer to the Mate App on your phone.
Data Stored in App
Here you can check how much data still needs to be transferred from the phone to Empatica's servers. The ideal case is Nothing to upload. When the phone is disconnected from the Internet, data sent from Embrace will remain in the Mate App until an internet connection is established. Please make sure to have a stable internet connection, and data will automatically upload to our servers.
Last App Sync to Cloud
This indicates the last time that data was sent from the Mate App to Empatica's servers. Make sure the phone is connected to the internet to keep data synced. If data is not sent to the servers, you will not be able to see your rest and activity information in the app.
If the Internet connection is active, but you are still unable to upload data, try to force close (iOS, Android) the app and open it again.
Important note: When the Mate App is not used for 30 days, you will be automatically logged out. You'll receive a pop-up notification from the app, asking you to log in again. To avoid this, please make sure that you connect your Embrace watch to the app, and that you have an internet connection to upload data.