This article has all the related information that will help you understand the receipts generated for your chosen subscription plan and add-ons. 
Once the free trial period ends, with every renewal of the subscription plan, a receipt for the equivalent amount will be generated automatically for the amount of the purchased plan. Your subscription plan will be renewed monthly or yearly, based on the option you choose. Each renewal and change in plan (upgrade/downgrade) is associated with a receipt.
To locate your receipts:
Go to your

Empatica Account

and click on "View My Subscription Details".

You will be redirected to your

Subscriptions Page

, which lists out all the information related to your billing details, existing plans and receipts.

Under the 'Receipts' tab, click on a date to view or print the receipt of that particular purchase of subscription plan.  
Here's a quick-video of the steps to follow to find your receipts: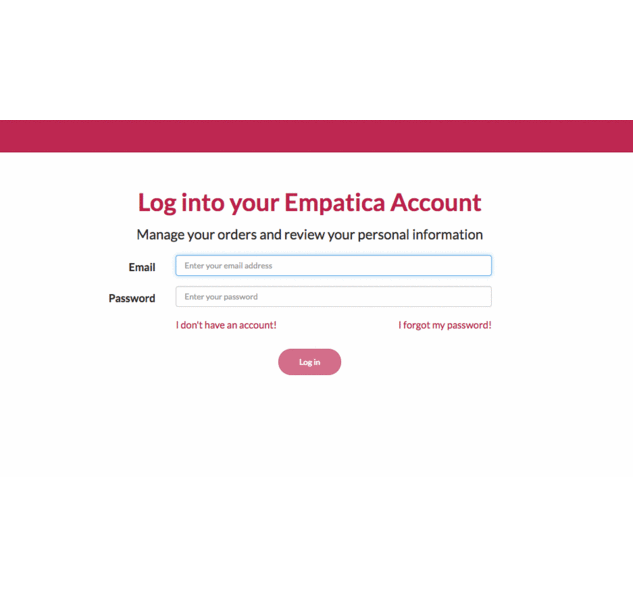 Understanding your Receipts:
 Payment Status: 
    

PAID:

If the transaction is successful, then your receipt will show the payment status as 'Paid'.

    

NOT-PAID:

If the transaction does not go through due to some issues, then the payment status is termed as 'Not Paid'. Some possible reasons for a payment decline could be:
Incorrect card details

Insufficient funds/credit

Expired/blocked Card
In such cases, to ensure uninterrupted service, you could change the credit card with another one. If you add another credit card, a charge will be attempted in the next 24 hours of the change.
For more information on the failed transaction, we recommend contacting your bank.
The below image shows the payment status indicated on the receipt: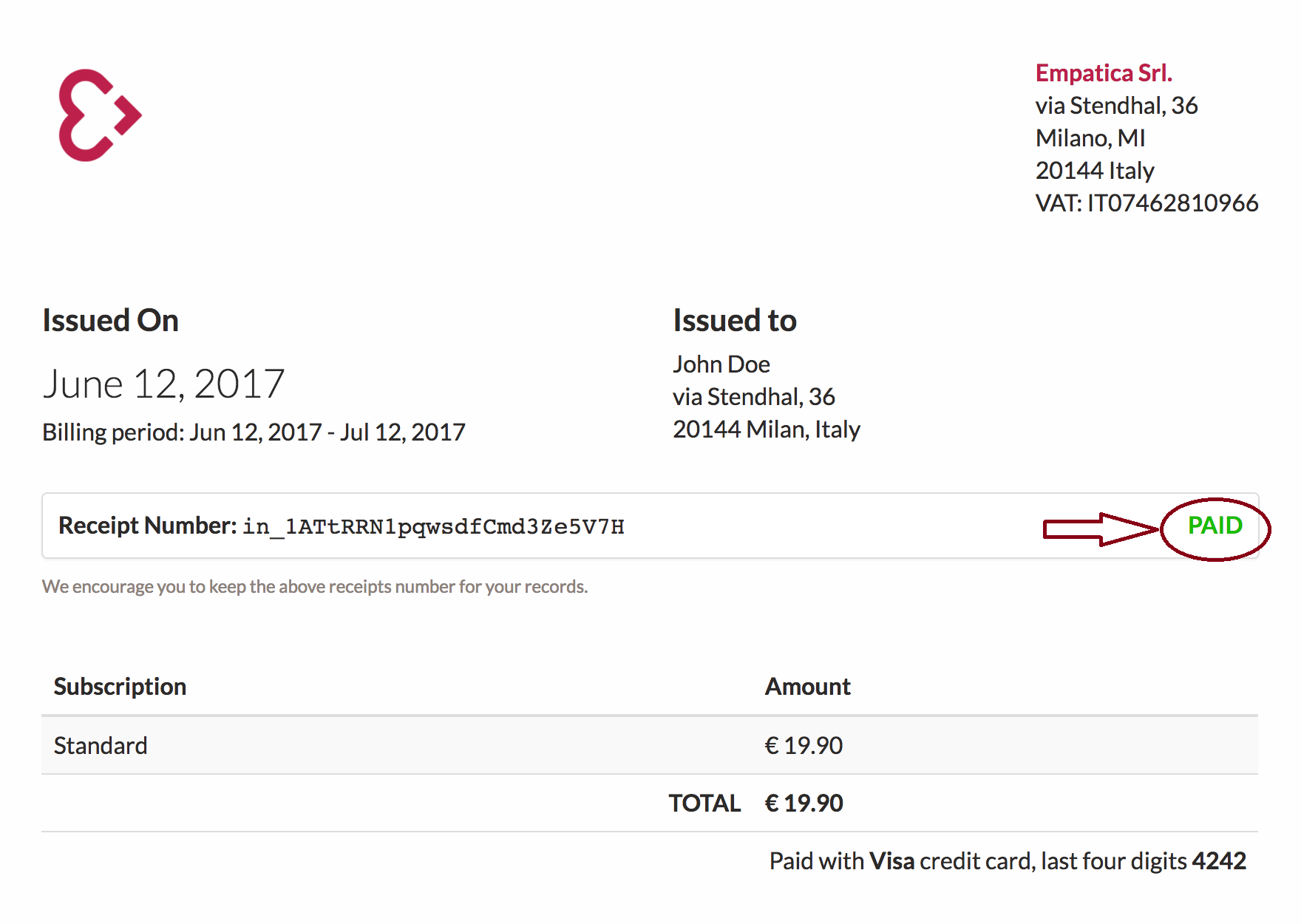 Some other examples of Subscription Receipts:
Upgrade/Downgrade Subscription Plan:

The following image shows you the format of receipt when you upgrade/downgrade from one plan to another. In this particular example, the subscription plan has been upgraded from Standard plan to Plus plan. The receipt generated is for the amount that is to be paid after the change in plan.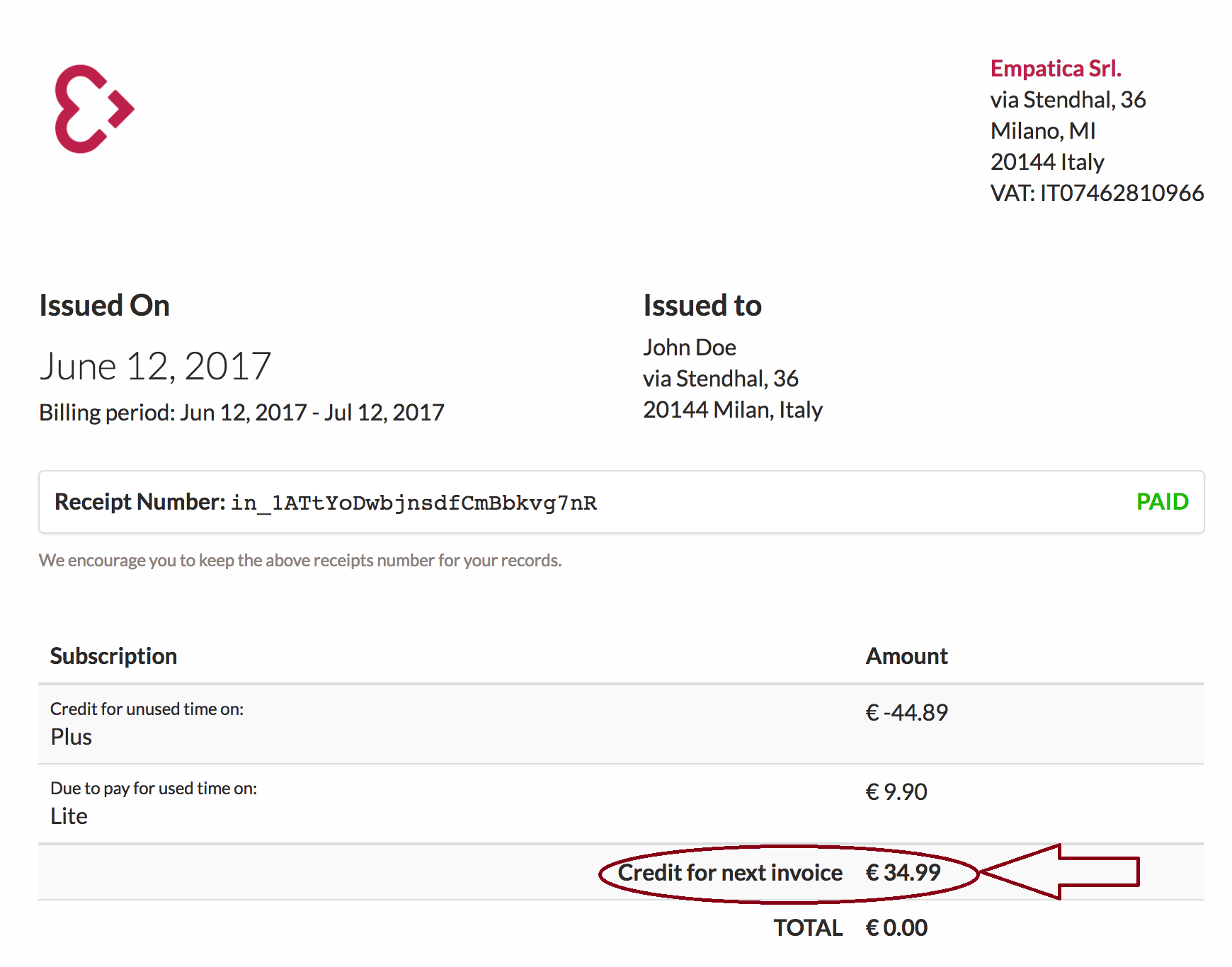 Excess credit:

When you change from one plan to another, if there is an excess amount after implementing the new plan, this is converted into credit which will automatically be applied to the next receipt generated.

Receipt with a Debt:

If you choose to switch your subscription plan from one to another and the new plan exceeds the available credit by a few cents/pennies, this amount will reflect as a debt on the current receipt. When a new receipt is generated, this deficit will be debited along with the charge for the chosen plan.